ARUP Laboratories is a medical diagnostics laboratory located in Salt Lake City, Utah, with 4,000 employees and 65 laboratories. Founded in 1984, ARUP is affiliated with the University of Utah's Department of Pathology and provides national research and reference lab services.
I helped lead the successful redesign of ARUP's primary website with insights from user-centered research and design principles.
Goals
Redesign the website
Adhere to new branding styles
Quality and consistency in design
Better navigation and wayfinding
Improve customer experience
Project Duration
October 2018 – February 2020
Role
Project planning
User research and testing
Design workshops and reviews
Wireframes
High-fidelity prototypes
CSS, HTML, and JavaScript coding
Drupal theming and development
Post-launch analytics and optimization
Design Process
My design process is closely aligned with the Nelson Norman Group's UX training which I have taken part in. At every step of my design process, I keep the users at the forefront of my thoughts, empathizing with their experiences and perspectives. I advocate for the user's point of view, especially in terms of accessibility standards and inclusive design practices.
It is also important to gain a thorough understanding of the scope of the project and business goals. During the initial discovery phases, I met with project stakeholders to understand the requirements to successfully complete the project. I then collaborated with other designers to perform user research, defined objectives, and strategized with insights from research.
User Research
I participated in user research to find out what the users do, think, and feel as they go through the website. Many data points were gathered using quantitative analytics, qualitative input from customers, and overall vision from stakeholders.
At this stage, I also identify common pain points across many different users and find unmet user needs, and I then create design solutions to those issues. I consider the potential interactions between different products, features, and platforms, and the final product to be delivered as a whole.
Methods Used
User interviews and surveys
Internal user focus groups
Feedback from clients
Google Analytics
Google Optimize: A/B testing
CrazyEgg and Microsoft Clarity: Heatmaps, UX recordings
Personas
Customer Journey Map
Prototypes & Iterations
Wireframes
I created wireframes that are mid-fidelity for users to be able to navigate through the pages and complete tasks during usability testing. I also presented these to the design team to receive feedback on what could be improved in the designs.
High-Fidelity Prototypes
After testing layouts and information architecture with wireframes, I created high-fidelity prototypes in collaboration with other UX/UI designers and the corporate branding committee. I continued to iterate different designs based on user feedback and testing.
Note: I photographed the images used in the design concepts, some of which are also used on the live website.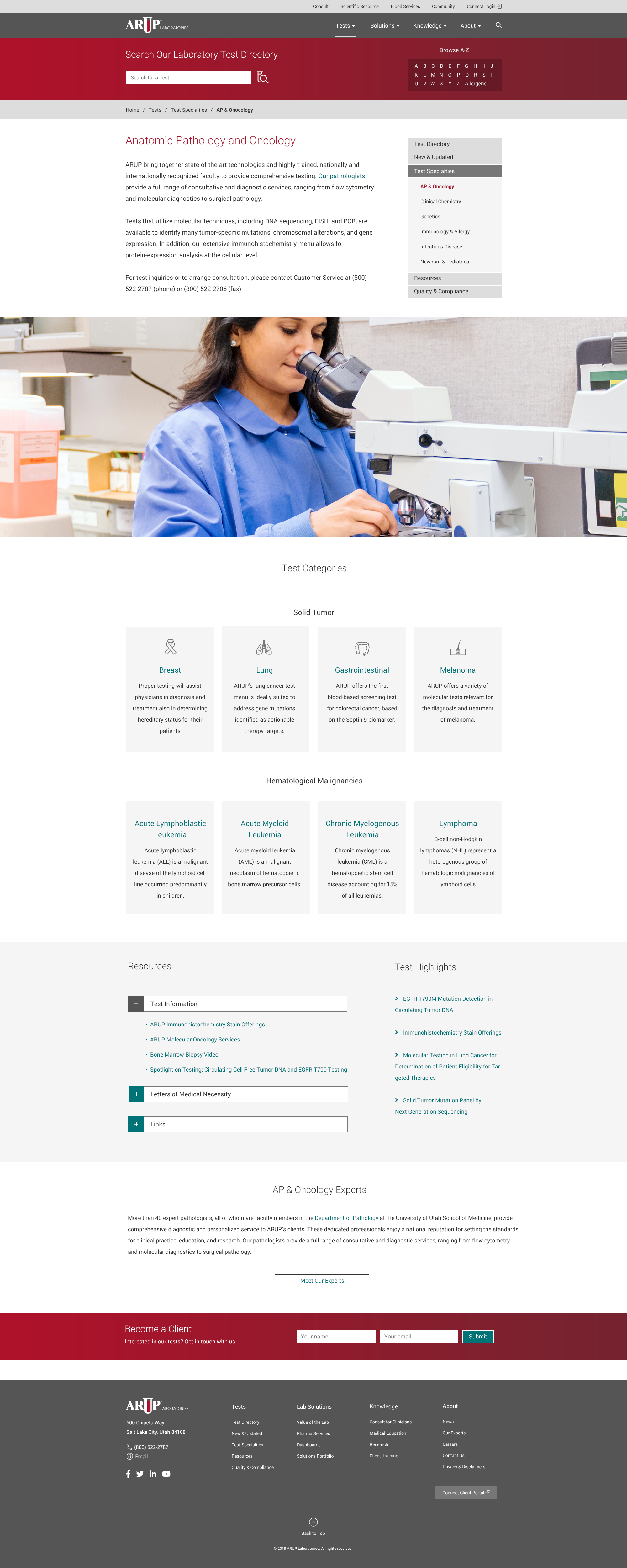 Live Website
The design philosophy is to help our users get what they need done quickly but also convey a corporate reputation of being a high quality laboratory dedicated to patient care.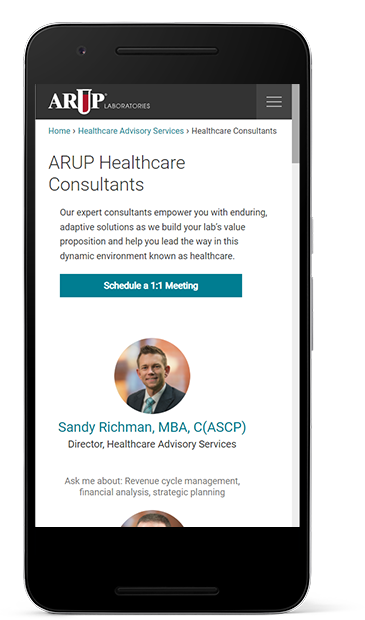 Project Conclusion
This project was successfully completed in collaboration with other UX and UI designers, web developers, IT specialists, product managers, and director to executive level stakeholders. As the web design team lead, I listened and responded to customer and team feedback to ensure project success.
I monitored post-launch analytics in Google Analytics and Microsoft Clarity, and I set up and performed A/B testing in the Google Optimize platform. With the plethora of post-launch data, I and the web team have brainstormed and implemented new features and solutions to enhance user experience.
Visit the Live Website: www.aruplab.com